How Do Audience Response Systems Work?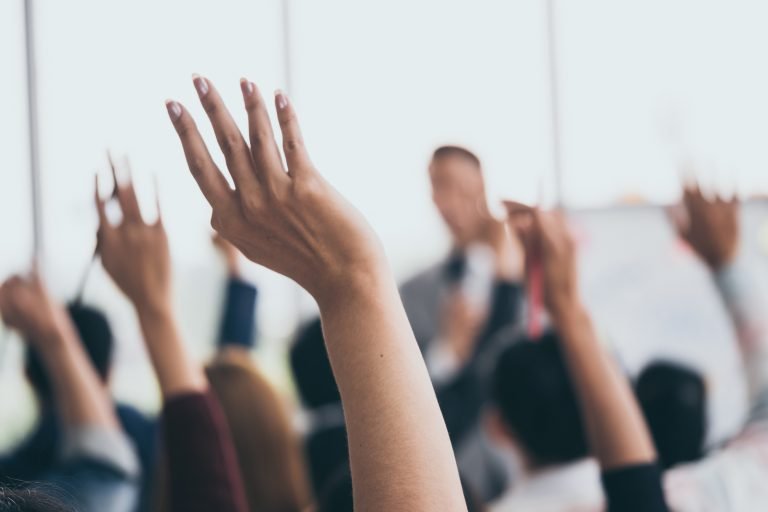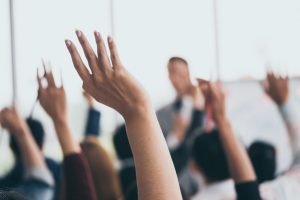 An audience response system is a combination of software and wireless hardware that allows presenters to gather feedback from an audience. There are many forms of ARS, but the most common type features handheld devices, also known as clickers, that are distributed to audience members before an event.
Typically, during an ARS event, the presenter uses a computer and a video projector that displays questions for the audience. Questions can take the form of true/false, multiple choice, or may even seek numerical answers. Audience members respond by pressing a key on their individual handheld device. Answers are sent to a base station, or receiver, connected to the presenter's computer. The ARS software collects the results, which the presenter may display graphically during the event.
ARS allows data to be collected anonymously, a feature that's particularly helpful when audience members are wary of replying to certain questions. This anonymous feature is also useful for events that require voting, such as committee meetings, governmental elections, and focus groups. In cases where tracking is necessary, ARS can trace responses to audience members. This a primary reason why university lecturers and corporate trainers regularly use ARS. It's important to note that, no matter the specific reason for an event's ARS, incoming data can be stored in a database on the host computer. The presenter can then generate data reports later for further analysis.
Why Use ARS?
ARS was introduced in the 1960s for market research and test screenings in the film industry. Since then countless organizations around the world have adapted ARS technology for a wide array of applications. Ultimately, the purpose of an ARS is to increase interaction between the presenter and the audience. In most cases, this is achieved through immediate feedback that can be displayed or recorded. When used correctly, ARS can effectively:
Increase audience attentiveness – In a 2005 University of Wisconsin study, a majority of college students who used ARS keypads during lectures reported increased engagement. Research shows that a classroom ARS works best when instructors present course material through surveys, pre-tests, and reviews, or when questions are challenging or thought-provoking.
Gauge audience members' interest in the subject of discussion – The research industry uses ARS as a marketing research tool to survey participants on new products and services. Groups can give feedback in a matter of seconds, and researchers can have a report available minutes later. Companies worldwide rely on data gathered through ARS to evaluate their products and make strategy decisions.
Create an interesting learning environment – The mere novelty of ARS technology can encourage audience interaction in a way that's beneficial to students. For instance, ARS will let you know right away if students are struggling with a topic and allow you to modify your lecture or presentation on the fly.
Allows anonymous polling – Organizations frequently use ARS for election events such as appointing board directors and committee members or proposing changes to policies and bylaws. ARS software collects the votes and lists the percentage of respondents who chose a particular candidate or issue, but ARS doesn't reveal how individual respondents voted.
How to Use ARS Effectively
ARS allows you to collect valuable data from your audience, but truly understanding what your goals and intentions are will go a long way toward the success of your event. ARS companies advise presenters to be open and honest about their reasons for using the system. This will help you overcome audience members' fears of negative consequences for their responses. Presenters should explain how ARS will be integrated into their presentation and, if necessary, emphasize confidentiality.
As part of your event preparation, it's essential to plan your ARS questions. Before deciding on your question, you should have a good idea of what each one is seeking to accomplish or measure. Creating prompts may seem easy, but if they stray from the topic of discussion, or if there are too many, you run the risk of an unfocused and overly long event. As a rule of thumb, prompts should be based on the event's concepts or topics.
With most systems, you will have a choice of question formats. The three primary ARS formats are:
Close-ended or multiple-choice questions that include a shortlist of possible answers
Open-ended questions that require short, text-based responses
Scalar questions that rate or evaluate a discussion item—for example, a five-point numeric scale from "Agree" to "Strongly Disagree"
Ranking questions that put items in an ordinal sequence—for example, three items ranked in order of importance
Use direct, simple wording with choices that are easy to comprehend. If you think a question is too wordy or comprehensive, break it down into multiple questions.
Choosing an ARS Provider
Choosing an ARS provider based solely on price can leave you vulnerable to embarrassing glitches that can ruin your event. That's because cut-rate ARS usually means cut-rate service. It's always best to partner with a company that has extensive industry experience and a long track record of reliability— in other words, a company like Padgett Communications. Since 1995, we have served countless organizations across the globe, from professional associations to Fortune 500 companies. As a global ARS provider, we have enjoyed a 100% success rate for ARS events. That's because we use state-of-the-art audience response equipment that can be customized to our customers' needs and offer comprehensive on-site management that includes:
Pre-event planning to determine which of our handheld devices can best serve your needs
Making sure that all ARS devices and video equipment are functioning properly
Coordinating hardware setup, rehearsal, and software setup to ensure a smooth, productive presentation.
Helping you adjust your program on the fly, if necessary
To learn more about our ARS service, contact Padgett Communications. We can provide you with a free, itemized quote, with no hidden fees or charges, so that you know exactly how much your ARS rental will cost.