Improve Meeting Productivity with Interactive Audience Fun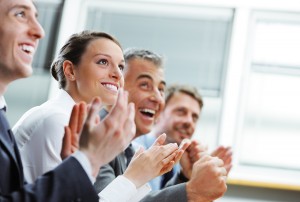 Interactive audience fun is one of the reasons why Padgett Communications is the best choice to handle the audience response system (ARS) for your next meeting, event, or conference. Our state-of-the-art, handheld devices and wide range of video and digital display options are great for ice-breaking activities, team building, training exercises, consensus building, or anything else you expect to achieve during your event.
One of the most effective ways we've found to generate interactive audience fun − no matter how big or small the meeting − is our popular game show formats. We can create completely customized versions of well-known game shows such as Jeopardy!, Who Wants to be a Billionaire?, and trivia contests of all kinds. Even if game shows are not exactly what you're looking for, you'll find that simply generating interaction between the presenter and the attendees can create an atmosphere that is more conducive to learning or conveying important information. Here are just a few ways a Padgett Communications ARS program can be used at your next conference or event:
To take surveys and instantly display results
To conduct entertaining and effective focus groups
To coordinate breakout sessions
To build a consensus among peers or subordinates
To conduct training sessions and educational seminars
To help formulate strategy with the sales team
To encourage constructive feedback from employees
Click or call today to learn more about the creative ways Padgett Communications helps you encourage interactive audience fun. Since 1995, we have delivered with a success rate of 100 percent at thousands of events and conferences around the world.