Interactive Audience Polling Systems for Rent from Padgett Communications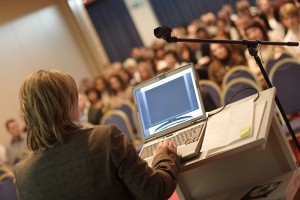 Incorporating interactive audience polling into any conference, event, or large-scale meeting can help the process to run more smoothly and to keep everyone involved and fully engaged throughout. At Padgett Communications, we proudly provide audience response system (ARS) equipment that is geared specifically for audience interaction, and we'll happily work with you to help you find just what you're looking for.
Of course, if you aren't familiar with audience polling equipment and its many varying uses, the entire idea of ARS systems can seem a little foreign. But, after a little bit of familiarization with the equipment, you'll see that the equipment and software we rent is perfect for:
Recording election results
Conducting a test or quiz in a classroom environment
Receiving feedback on new products before launch
Playing fun, interactive games
Putting the fun in team-building exercises
Recording data with parameters that you set
Completing employee training events
Administering breakout sessions with fun icebreakers
And so much more
However you plan on using the polling equipment and software that you rent from Padgett, you can be confident that we'll be there beside you to provide assistance from beginning to end. In fact, we'll even send along one of our dedicated project managers to help set up all equipment, install all software, and ensure that everything is ready for you to use.
So, if you're interested in learning more about the interactive audience polling features of the ARS equipment from Padgett Communications, please contact us today. We'll gladly answer any questions you have about renting from us and can even assemble a completely itemized quote that will cover all your needs.