How Interactive Games and Other Techniques are used for Audience Engagement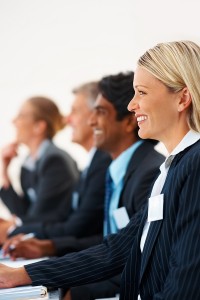 One of the most effective techniques for facilitating an interactive audience is to use the game show format developed by the audience response experts from Padgett Communications. Using state-of-the-art wireless keypads and secure radio frequency transmitters, Padgett's fully customizable trade show games allow you to build your brand in an entertaining, engaging way.
Interactive audience techniques from Padgett can be used to team build, to gather demographic information, to test the institutional knowledge of a group of employees, to reinforce a company's philosophy, and more. Game shows are a great way to get audience members to invest emotion into a presentation. Participants can engage as individuals or in teams, with standard question-and-answer formats or a number of other game types, including:
Casino-style games
Who Wants to Be a Billionaire?
Speed-scored trivia
Team or individual questions
Jeopardy!
Other popular TV game show formats
Routine presentations and audience feedback might work well for some meetings, but the interactive audience techniques made possible by Padgett Communications have proven their worth time and again. Padgett's world-class client care includes a detailed plan for how best to utilize our many audience response services. One of the first conversations you'll have with your Padgett-employed project manager is to determine your event goals, followed by a discussion of the services that might help you achieve those goals. Click or call today to learn more about how Padgett's trade show games can take your next event over the top.