With Padgett Communications' Interactive Meeting Systems, You Are Ready for Anything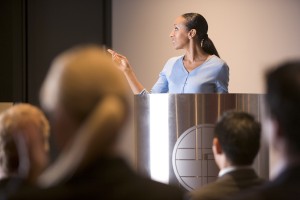 When you use interactive meeting systems from Padgett Communications for your next meeting, convention, or conference, you will always be prepared for any contingency during the course of a presentation. You may be asking right now: What could possibly go wrong with the audience response system (ARS) if Padgett isn't there to make sure everything goes smoothly?
That's not an unreasonable question, and anyone shopping around for interactive meeting systems deserves a straight answer. There are, in fact, quite a few things that could go wrong with an ARS if it is not planned and implemented by an ARS professional. The potential pitfalls include:
A malfunction of the hardware
A glitch in the software, or an incompatibility issue with on-site equipment
Data that is lost or inaccessible
A problem with the audio
A problem with the video
And many more
None of that is a concern when you hire Padgett to handle your ARS. That's because every client is assigned a personal project manager who not only helps plan the event, but also travels to the site – no matter where on Earth it might be – to take care of setup and oversee the implementation and flawless execution of one of our interactive meeting systems. We program the software, we test the equipment, we direct the presentation. If there are any problems we are right there to trouble-shoot and keep things on track.
We do it all when it comes to ARS. Click or call Padgett Communications to request a completely itemized quote for your next event, and rest assured that all things ARS are in the best hands possible. And that means you can sit back, relax, and leave it all to us.