How Padgett's Interactive Meeting Systems Using Game Show Options Can Help You Get the Most Out of Your Event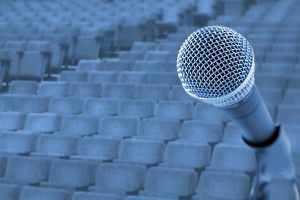 One way to get the most out of Padgett Communications' interactive meeting systems is to use a game show format to encourage audience participation. Questions within a game show such as Who Wants to be a Billionaire? can creatively test individuals or a group on current and future products, company policy, or virtually any other subject. You can instantly collect and tabulate audience feedback, vote on a favorite performance or idea, and much more. The game show format, while promoting team building, can also encourage understanding. The audience polling questions can be in multiple choice, true/false or yes/no format, and can also assign a related point value to keep score.
Our interactive meeting systems give you the ability to display the questions and answers in a wide variety of graphic options. Individual or team standings can be displayed after each question or after several rounds of questions. The audience analysis function tells the group which individual or teams have the best knowledge retention, and also reveals certain areas in need of improvement.
In addition to Billionaire, our game options include:
Jeopardy!
Vegas casino-style bonus games
Team or individual Q&A
Speed-scored trivia
Other popular TV game show formats
Much more
Many different result graphs can be displayed with Padgett interactive meeting systems. These graphs can be vertical bar charts, horizontal bar charts, pencil graphs or pie charts with backgrounds customized to display a theme logo, corporate logo, watermark or other presentation graphic. The Padgett Communications audience response system also allows for video and sound files to create a complete multimedia presentation.
To learn more about how game show options can help you get the most out of your interactive meeting systems, or to request an all-inclusive quote for your next event, click or call today.