Interactive Response System Rentals Available for Events in Cities Throughout the World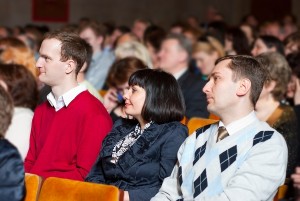 Incorporating an interactive response system into your next event is an excellent way to ensure that your audience remains engaged throughout your presentation. However, it is important that your audience response system (ARS) is reliable and easy to use. After all, a confused audience and/or technical difficulties can throw a wrench into your event.
Fortunately, you've found Padgett Communications. When you rent audience response systems from us, you can be sure that your presentation will go off without a hitch because we go the extra mile to ensure the satisfaction of each and every customer we work with. For example, we'll send a dedicated project manager to your event – no matter where in the world it is held – to facilitate the use of our interactive response system. We'll handle equipment setup, software installation, and even perform a rehearsal to ensure all devices are functioning properly and that your audience will have an optimal experience.
In addition to providing exceptional customer service, Padgett Communications rents only top-notch audience response systems. The sleek appearance of our handheld devices makes them suitable for virtually any type of event. In fact, our systems have been used by many Fortune 500 companies and have appeared on a variety of syndicated TV shows. Most importantly, these devices are user-friendly and can be easily used for many different applications, including interactive games, audience polling, voting, and much more. What's more, our handheld keypads are available in four different models, allowing you to choose the one that best suits your needs and budget. These include:
Padgett Worldwide
Padgett Ativa
Padgett Plus
Padgett Mini
For more information about the benefits of using our interactive response system at your next event, contact Padgett Communications today.