Live Polling Systems for Audience Feedback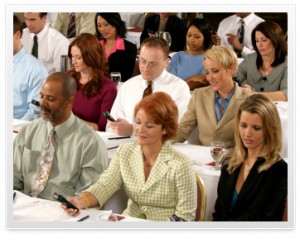 Padgett Communications will provide the finest customer service in the industry when you rent our live polling systems for audience feedback at your next focus group or business event. Our state-of-the-art handheld devices and myriad display options are perfect for extracting as much data as possible from a meeting, large or small. But what truly sets Padgett apart from other audience response system providers is our commitment to being there, onsite, to oversee every aspect of the ARS for your event or meeting.
When you partner with us, a Padgett-trained and employed ARS professional will be assigned to your account as your personal project manager. This eliminates the anxiety that something might go wrong with one of our polling systems as you gather audience feedback, because we come to you, anywhere in the world, to help with setup, programming, rehearsal, and more. We have a well-established track record of making our clients look good: Since entering the ARS industry in 1995, Padgett has achieved a 100 percent success rate at thousands of meetings and events all over the world. In addition to the personalized attention and customized presentation we provide, our equipment is state of the art and:
Field-tested around the world for reliability and ease of use
Distributed as individual terminals, with all responses matched against an electronically stored ID
Customizable with corporate logos to reinforce your company or organizational brand or for unique sponsorship opportunities
Contact Padgett Communications today to request an estimate for your next event. Be sure to ask how our innovative polling systems for audience feedback can help you maximize the effectiveness of your focus group, sales meeting, or any type of business meeting or corporate event.