A Wireless Voting System Makes Elections More Efficient and Accurate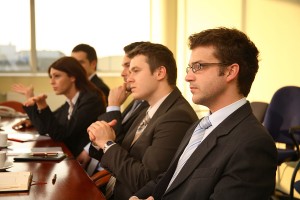 By renting a wireless voting system for your organization's upcoming election, you can avoid the headaches that come with traditional methods such as paper ballots. Instead of worrying about human error resulting in inaccurate results and wasting time tallying votes, you can receive instantaneous and reliable results. However, it is important to keep in mind that not all wireless voting solutions are equal. Do-it-yourself options, such as smartphone applications, are prone to freezing and other problems that can interfere with your election. For the most reliable solutions, there's only one company to call – Padgett Communications.
At Padgett Communications, we have maintained a 100 percent success rate over the course of countless events and elections since 1995 because we provide:
Outstanding service – We'll work closely with you to ensure all of your needs are met. For example, our experts can help you to create truly engaging presentations by providing custom audio, graphics, and video.
Top-notch technology – We offer several different voting keypads so you can choose the option that best suits your voting application. Some excellent features include multi-selection capabilities for votes involving more than one candidate as well as secure logins.
Onsite support – We send an experienced project manager to each event who will set up all of the equipment, install the software, provide a walkthrough of our wireless voting system, and stay onsite for troubleshooting and making changes on the fly.
If you would like to learn more about the benefits of using a wireless voting system from Padgett Communications, contact us today.