Creative Presentation Participation Ideas: Staging Game Shows to Engage Your Audience Can Help You Get the Most from Your Company Meeting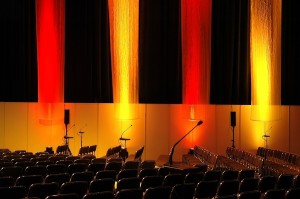 One of the most effective presentation participation ideas to implement in order to get the most out of a company meeting is the use of an interactive audience game show. Game shows can be used for team building, to gather information from employees, to gauge the retention of information that has been discussed, to reinforce corporate philosophies and core values, and much more, and applying these interactive audience techniques can be simple when hiring the audience response system (ARS) experts at Padgett Communications. Since our company's founding in 1995, we have established ourselves as a leading ARS provider not only throughout the United States but across the world. We've worked with businesses of all sizes, from small locally owned and operated companies to multinational Fortune 500s, and we're ready to put our expertise to work for you so you can successfully execute your presentation participation ideas.
One area in which Padgett Communications distinguishes itself from other ARS providers is the level of customer service that is provided. We assign a full-time project manager to every job we undertake, and this individual works on-site with you for the duration of your meeting and handles everything associated with our ARS service. This includes equipment setup, conducting pre-meeting checks on equipment, addressing issues that may occur during audience participation segments, and more. Additionally, our professional project managers have years of experience, so they can even help provide insight on how you to best refine your presentation participation ideas in order to gain the most valuable input.
Other benefits to working with Padgett Communications include:
A variety of game show choice to choose from, including popular formats such as Jeopardy! and Who Wants to Be a Millionaire?
The use of state-of-the-art, user-friendly handheld keypads
Receiving 100 percent accurate data that are instantly stored and archived for easy accessibility
Contact Padgett Communications today to receive a free, itemized quote for our ARS service, and learn more about how we can help you effectively implement your presentation participation ideas so you receive the most out of your upcoming company meeting.