Why it Makes More Sense to Rent Rather than Purchase a Small Audience Response System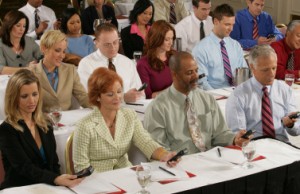 If your organization holds regular large meetings or hosts big corporate events on a regular basis, you might be considering making a major purchase of a small audience response system. While this might seem like the prudent course of action, financially speaking, it actually makes more sense to put the audience response system (ARS) professionals from Padgett Communications on speed dial. Padgett is the leading ARS provider in the world, with nearly two decades in the business, and we've seen it all when it comes to conferences of all sizes. We bring those years of experience to every event we handle, which makes us an invaluable asset when ARS perfection is your goal. And that's what you can expect – perfection – when you hire Padgett. You will never get that kind of guarantee from an ARS system you buy and have to implement yourself.
What sets us apart and makes us worth the price of rental every time is the comprehensive level of customer service you get from Padgett. When you consider the potential price of failure in an important event setting, it only makes sense to go with an ARS provider trusted and utilized by dozens of Fortune 500 companies and Oprah Winfrey.
When you hire Padgett, rather than purchase a small audience response system, you can count on:
A complimentary and comprehensive quote for your event, which means no hidden costs of any kind
Trained, dependable, full-time staff members who work with you on-site and are thoroughly engaged in the process from start to finish
100 percent reliable, user-friendly, field-tested equipment, including a wide variety of state-of-the-art handheld audience feedback devices
The technological know-how, participant capacity, and experience that are compatible with your event goals and concepts
An impressive list of reputable clients who have been 100 percent satisfied with past events
Our goal is to make you look good in front of your meeting attendees, your co-workers, your supervisors, and anyone else in attendance. Since entering the ARS business in 1995, we've achieved that every time.
Click or call today to get started with a completely itemized quote on any of the audience response systems we have available to rent for your next conference or convention in the United States, Canada, or anyplace else in the world.