Real Time Audience Polling Solutions Available from Padgett Communications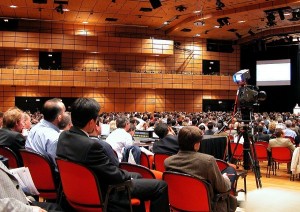 Real time audience polling solutions from Padgett Communications allow organizations of all sizes to increase the engagement of their audiences while gathering valuable data. Our services involve putting an easy-to-use device in the hands of each member of an audience, which they can use to actively participate in a presentation.
At Padgett, we offer numerous audience response systems with a wide range of capabilities. Plus, our devices can be programmed to suit a variety of applications, including:
Fun, interactive games
Large group elections
Employee training sessions
Market research for products launches
Icebreakers and breakout sessions
Team-building exercises
And more
What truly sets Padgett Communications apart from our competitors is our comprehensive approach to customer service. From the moment you contact us through the conclusion of your event, you can count on our expert support, which will ensure your event goes off without a hitch. For example, we'll help you determine which audience response device is right for your application, and we can even help you develop professional presentation materials complete with audio, video, and graphic elements. Perhaps best of all, we won't leave you to handle complicated equipment setup like many other companies. No matter where on the globe your event is being held, we'll send a dedicated project manager who will take care of everything from setting up your equipment to performing a pre-event rehearsal to familiarize you with our system. During your event, your project manager will remain onsite – ready to help troubleshoot any problems or make on-the-fly changes.
If you'd like to learn more about what makes Padgett Communications a global leader in real time audience polling solutions, contact us today. We'll be happy to discuss your needs and provide an accurate quote that covers everything you'll receive from us.