Audience Response Technology with Real Time Voting Capabilities Available for Rent for Events Around the World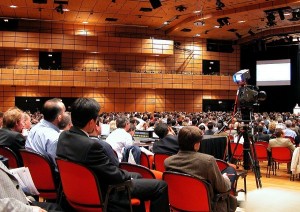 By using real time voting technology at your next event, you'll not only be able to better engage your audience by allowing them to interact with your presentation, but you'll also collect valuable data that you can later review and analyze. Of course, if you are going to make this investment, it's a good idea to ensure everything runs smoothly by renting your equipment from a company that has a reputation for excellence. No matter which city in the world you plan to hold your event, that company is Padgett Communications.
Since 1995, Padgett Communications has helped thousands of clients at countless events make the most out of their presentations by providing reliable audience response system (ARS) rental equipment and exceptional customer care. We aren't like many other companies that will simply ship you a box of devices and leave you to figure it out from there. When you work with us, you'll have personalized support from a project manager who will be with you on-site – no matter where you are – to manage everything you'll need to provide a successful real time voting experience for you audience. These services include:
Equipment setup and testing
Software installation
Pre-meeting rehearsals to ensure an optimal audience experience
Troubleshooting any technical difficulties during the event
And more
In our more than 20-year history, we've maintained a 100 percent success rate, so you can be completely confident in our reliability and expertise. To learn more about the real time voting capabilities of our audience response systems, contact Padgett Communications today.