Audience Response Software from Padgett Communications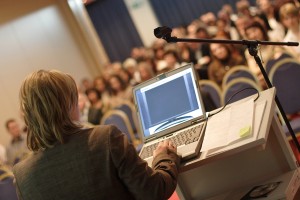 At Padgett Communications, we understand that reputations can be made or broken, sales can be won or lost, and careers can thrive or fall apart depending on the success of a meeting or conference. With our audience response software at your disposal, you will look good in front of your potential clients, your prospects, your supervisor, your company's officers, and your peers. We can guarantee that because we have done it time and again and have enjoyed a 100 percent success rate at thousands of events all over the world since 1995.
Event planners know how important it is to be able to rely on those around them, which is why reliable audience response software is so attractive. Think about how great it would be to never have to worry about the technical difficulties that can ruin even the best-planned convention, meeting, or other type of event. Those difficulties might include:
Equipment malfunction
Audience response software failure
Lost data
One reason we can offer an unwavering promise of perfection is our ability to deliver the most advanced, reliable audience response software in the industry. The software, the integrated transmitters, and handheld keypads we bring to your meeting site have the programming flexibility to meet any of your audience response requirements, including:
Team building
Training exercises
New product testing
Information retention assessment
Ice breaking activities
Audience polling
Employee feedback
Sales meetings
Much more
Call or click today for a free, completely itemized quote for your event. Your personal project manager will help you determine the best way to utilize the Padgett Communications audience response software and handheld audience feedback devices to get the most out of your event.