Rent ARS Equipment from Padgett Communications the Next Time Your Organization Holds an Election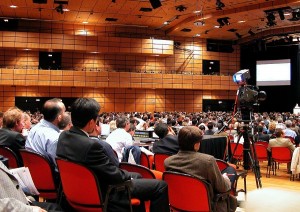 Would you like to rent audience response system (ARS) equipment for an upcoming election within your business or organization? If so, consider turning to the most trusted name in the business – Padgett Communications. Both our ARS software and handheld voting devices are among the best in the business, and they will allow you to successfully oversee and manage an election in simpler fashion than ever before.
When you choose to rent ARS equipment from Padgett Communications, you'll receive so much more than the finest voting systems and proprietary software on the market. We'll also provide you with one of our dedicated project managers, who will assist in:
Setting up all ARS equipment at your facility and ensuring that all video display boards, projector screens, and monitors within the facility can be seen by all throughout the venue
Installing all software and ensuring that it is appropriately operating in the capacity that you require
Taking you through a pre-election rehearsal to familiarize you with the Padgett ARS equipment and help you to get a feeling for how the election will unfold
Standing behind you throughout the duration of your election to give you a boost of confidence and also to quickly troubleshoot any technical difficulties that arise on the fly
To learn more about Padgett Communications and the ARS equipment we rent to organizations of all kinds throughout the world, please contact us today. We'll be pleased to develop an itemized quote for you that will lay out, in detail, all that you plan to rent from us, so you can know exactly how much everything will cost before anything is finalized.