Rent a Voting System from Padgett Communications to Ensure Your Election Goes Smoothly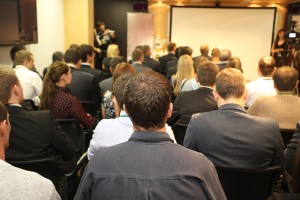 If you'd like to rent a wireless voting system for your organization's upcoming election, turn to Padgett Communications. When you choose us, you'll not only receive top-notch handheld voting equipment, but also the peace of mind that your election will go off without a hitch. That's because we provide full support services from an experienced project manager. This individual will come to the site of your election, set up your equipment, install all necessary software, and conduct a walkthrough to familiarize you with our equipment. During your election, your project manager will be standing by, so, if any issues arise, they'll be resolved quickly.
In addition to our full-service approach, there are many other benefits when you rent a voting system from Padgett Communications. We offer keypads with a range of functionalities, including equipment with secure login capabilities. Plus, our proprietary software is highly versatile, and can be used for complex election applications, including:
Electing multiple individuals to a multi-seated position, such as a board of directors or a committee
Proposing adjustments to your organization's procedures, policies, or bylaws and presenting new language that can be voted for immediately if opinions are favorable
Voting on changes in verbiage and immediately enacting those changes
Padgett Communications has been providing election systems for large energy companies, sororities, non-profits, and many other types of organizations since 1995. Since this time, we've maintained a 100 percent success rate, so you can be completely confident in the quality of our technology and the professionalism of our staff.
To learn more about why you should rent a voting system from Padgett Communications, contact us today.