Fun And Memorable Trade Show Games From Padgett Communications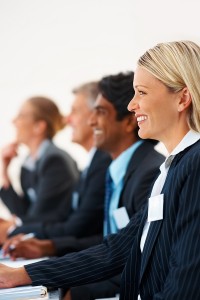 Trade show games from Padgett Communications are a great way to make sure your next event is remembered long after the booths are broken down and the convention hall is cleared. You could stand in front of your peers and potential clients presenting a dry recitation of the qualities that set your service or product apart from the rest. Or, you could make them think, make them laugh, and generate a branding buzz that won't soon be forgotten.
Using state-of-the-art wireless keypads and secure radio frequency transmitters, Padgett's fully customizable trade show gamesallow you to build your brand in an entertaining, engaging way with:
Speed-scored trivia
Casino-style bonus games
Team or individual questions
Jeopardy
Who Wants to Be a Billionaire?
Other popular TV game show formats
Much more
Don't settle for the routine when it comes to an audience response system (ARS). Padgett Communications has proven its worth time and again, with an emphasis on world-class client care and a 100 percent success rate with events of all sizes all over the world since 1995. Click or call today to learn more about how Padgett's trade show games can take your next event over the top.