Voting with ARS from Padgett Communications Ensures a Secure, Streamlined Election Experience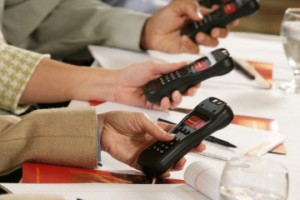 There are many benefits to voting with audience response systems (ARS) from Padgett Communications. As a full-service company, we go the extra-mile to ensure that each of our customers' elections go as smoothly as possible. In fact, we've maintained a 100 percent success rate since 1995. How have we accomplished this? Unlike other companies, we don't stop with simply providing the equipment you need and leaving you to figure out the rest. Rather, our comprehensive support includes everything from providing you with custom audio, video, a graphic presentations to sending a project manager to your location who will take responsibility for the entire process. This individual will set up your equipment, install all software, configure your displays, and provide any troubleshooting or changes that are required during your election.
Additionally, Padgett Communications offers a range of wireless voting devices with varying features to meet your specific needs. For example, we offer keypads with login features to confirm the identity of each delegate, making voting with ARS as secure as possible. Our systems also have versatile functionality and are suitable for nearly any voting application, including:
Voting a single individual in an open position, such as a new chairman
Voting several people into a multi-seated position, such as a board of directors
Voting on changes to the verbiage of policies, bylaws, and procedures and recording the changes after the motion has been approved or denied
And more
If you'd like to learn more about the advantages of voting with ARS from Padgett Communications, contact us today. We will be pleased to assists you in finding the perfect voting solution for your organization.