Reliable, Versatile Audience Response Systems from Padgett Communications Galvanize Meetings of Any Size in the U.S., Canada, Europe & Worldwide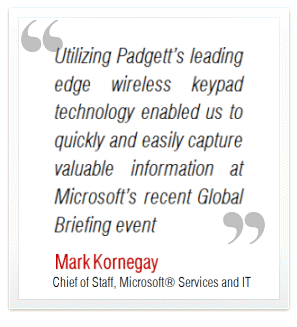 Audience response systems from Padgett Communications give you the power to transform any meeting, big or small, into an energetic information bonanza. In TV studios, boardrooms, and convention centers around the world, companies and organizations that depend on reliable, versatile, and professionally coordinated audience polling know they can put their trust in the exemplary service and expertise of the international leader in audience response system (ARS) technology: Padgett Communications.
Since entering the ARS field in 1995, Padgett Communications has achieved a 100 percent success rate at thousands of events worldwide. Our unblemished track record stems from the attention to detail we give every phase of an event, from content development to on-site installation of our state-of-the-art electronic voting systems. As our client, you'll work hand-in-hand with a project manager who is trained and employed by Padgett Communications, an expert in the latest audience polling technology and a partner who is there every step of the way to coordinate the details of your live audience polling while you focus on the big picture of your meeting or assembly.
Audience Response Systems for Medical Associations, Business Organizations, Production Companies, Network TV Shows & Much More From the Leader in Audience Polling Solutions
How does an interactive audience polling system from Padgett Communications work? Our audience response clickers (the Worldwide, the Plus, and the Mini) transmit wireless feedback from voting audience members with a simple press of a button. Real-time results are then displayed in vivid graph or chart form. Our audience polling equipment is perfect for sales meetings, focus groups, employee surveys, strategy sessions, market research, or meetings of any type. Any size, as well, whether it's a handful of board members around a conference table or 25,000 attendees in an auditorium. Collaborative information gathering and decision making has never been simpler, and with our interactive game show features, it has never been more fun. Plus, every response is instantly archived for easy access and analysis in the future.
Our commitment to client care has made Padgett Communications the ARS provider of choice for many major corporations and associations worldwide. The primary differentiation between us and our competition is that we always send trained experts who are actual Padgett employees to every event, rather than freelance engineers. From start to finish, every aspect of your event's audience response system will be overseen by a Padgett project manager who is dedicated to making absolutely certain that you come out looking great when all is said and done. We set up the equipment, program the software, conduct rehearsal, and do everything necessary for a smooth, glitch-free operation. But there's no need to take our word for it. Glowing audience response system reviews from our many loyal and satisfied clients say it all.
Click or call today to launch your next meeting into a new realm of productivity and audience enthusiasm with our audience polling solutions. The Padgett Communications staff is pleased to provide a free, completely itemized quote for your event, and we are happy to answer any questions you may have.