Audience Polling Solutions Made Simple with ARS Rentals from Padgett Communications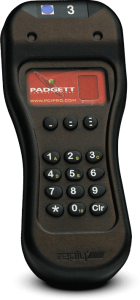 Padgett Communications is the company to turn to for audience polling solutions. We've been highly involved in the audience response system (ARS) industry since our founding in 1995, and we take our work seriously. We know full and well how important audience polling technology can be for engaging – and keeping the attention of – attendees at any kind of event. And, in all that we do, we seek to provide nothing less than the very best in terms of both ARS equipment and personalized services.
With Padgett Communications on your side for audience polling solutions, you'll have plentiful options, including the ability to choose between four different keypads to distribute to your attendees. Our offerings include:
Padgett Mini – Our simplest option, this small keypad is easily held in the hand and is ideal for responding to basic multiple-choice prompts.
Padgett Plus – This option is complete with login capacities and features multi-digit orientations for responding to more in-depth questions.
Padgett Worldwide – Our next model up is similar to the Padgett Plus, but has a more ergonomic design and a full-color display.
Padgett Ativa – The most elaborate product that we offer, this keypad features a full-color display with a touch screen and keypad for answering open-ended questions.
To learn more about the innovative audience polling solutions from Padgett Communications, please contact us today. When you do, we'll offer a consultation for your rental needs and even provide you with a completely itemized quote for all that we'll provide.