State-of-the-Art Audience Polling Technology from Padgett Communications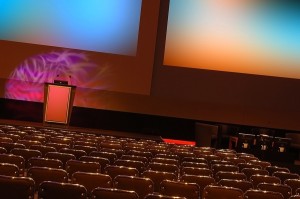 The audience polling technology software and equipment from Padgett Communications can help to attract and keep the attendees of events of any size. We know the ins and outs of audience response systems (ARS) as well as anyone, and we'll be pleased to lend our industry expertise to help you carry out a successful and fun event.
If you ever get stuck searching for creative ways in which to use the audience polling technology we provide for you, a Padgett representative will be there to assist. Just some of the many uses for our ARS equipment include:
Recording a wide variety of data, with metrics and parameters bounded only by your imagination
Receiving immediate feedback before a new product launches
Playing interactive games
Facilitating quizzes and tests in a classroom-like environment
Completing employee training sessions
Administering elections
Giving conference breakout sessions an element of fun
Incorporating icebreakers and team-building exercises
And more
No matter how you plan to use the ARS equipment you rent from Padgett, you'll have us by your side every step of the way to provide assistance. Along with the equipment you rent from us, you'll also have the guidance of one of our dedicated project managers. This individual will be responsible for setting up all equipment, breaking it down afterward, and assisting you throughout the duration of your event.
For more on the audience polling technology and innovative ARS equipment rented by Padgett Communications to companies, conferences, and events around the globe, please contact us today. A representative from the Padgett team will be happy to guide you through the rental process and be here to provide you with a totally itemized quote for your rental from us.