Reliable, Versatile Audience Response Systems from Padgett Communications: Trusted by Event Planners Around the World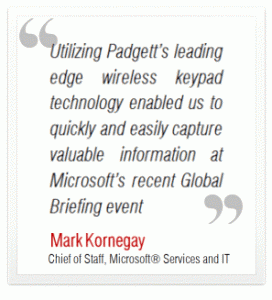 Padgett Communications is a professional, full-service audience response systems (ARS) provider that has been trusted by event planners around the world since 1995. We specialize in using handheld devices with creative, state-of-the-art display options to encourage audience interactivity and analysis for events, meetings, conferences, and programs in cities around the globe. And unlike some ARS providers, we assign a full-time employee – never a freelance contractor – who travels to your event site to oversee every aspect of your ARS.
Our commitment to world-class customer service is one reason why Padgett Communications has never failed to deliver for our clients. Our track record is flawless for events as large as a stadium full of attendees and as small as a meeting of high-level sales executives gathered around a conference table for a strategy session. The success of our audience response systems comes from the attention to detail we give every phase of an event, from content development to on-site installation of our cutting-edge electronic voting systems. As our client, you'll work hand-in-hand with a specially assigned project manager who is trained and employed by Padgett Communications, an expert in the latest audience polling technology and a partner who is there every step of the way to coordinate the details of your live audience polling, leaving you free to focus on the big picture.
Audience Response Systems for Medical Associations, Business Organizations, Production Companies, Network TV Shows & Much More From the Leader in Audience Polling Solutions
Our interactive audience polling system encourages audience members to engage by using our handheld keypad systems, with four customizable options: the Padgett Worldwide (our most popular voting pad), the Padgett Plus, the Padgett Mini, and the Padgett Ativa. They operate on secure radio frequencies, eliminating concerns about signal loss and unsecured data. All of the data you gather from your voting audience members is instantly archived and securely stored on our servers for simple access at your convenience. Plus, you'll never have to worry about dropped or weak wireless signals, short battery life, or incompatible hardware, like you might if you used smartphones for audience feedback.
The Padgett audience polling equipment is perfect for sales meetings, focus groups, employee surveys, strategy sessions, market research, or meetings of any type. Collaborative information gathering and decision making has never been simpler, and with our interactive game show features, it has never been more fun. We set up the equipment, program the software, conduct rehearsal, and do everything necessary for a smooth, glitch-free operation. But there's no need to take our word for it. Glowing audience response system reviews from our many loyal and satisfied clients say it all.
Click or call today to launch your next meeting into a new realm of productivity and audience enthusiasm with our audience polling solutions. The Padgett Communications staff is pleased to provide a free, completely itemized quote for your event, and we are happy to answer any questions you may have.