Audience Polling System Solutions from Industry Leader Padgett Communications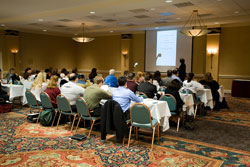 If you need to rent an audience polling system for an upcoming conference or event and you want to ensure you receive flawless results, then turn to the audience response system (ARS) professionals at Padgett Communications. Since breaking into the ARS field in 1995, we have established ourselves as bona fide industry leaders because we have consistently delivered impeccable results. We have facilitated audience interactivity at meetings and events held in cities around the world, and we have maintained a 100 percent success rate while providing customer service that is truly second to none.
When renting an audience polling system from Padgett Communications, you will receive reliable equipment that has been field-tested to ensure proper functionality. Our sleek, easy-to-use handheld keypad systems function on secure radio frequencies, which help eliminate concerns about signal loss – a major concern with ARS equipment that relies on mobile phones to operate – and unsecured data. All of the data you gather from your audience members will be instantly archived and stored on our servers, affording you access whenever you want. Additionally, our ARS rental service includes:
On-site service and support for the duration of your event from a full-time Padgett Communications project manager, not oversight from a third-party contractor like many ARS providers offer
Professional, personalized communication and collaboration from start to finish
ARS equipment setup and pre-meeting rehearsal
And more
To learn more about the benefits of renting an audience polling system from Padgett Communications, contact us today. We will gladly provide a detailed, itemized quote for ARS service for your upcoming conference or event.